About Me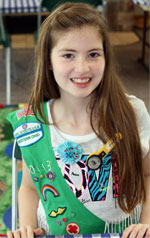 Hi, my name is Ashley. I am nine years old, and I'm in the 5th grade. I started this page because I think it is important to recycle. I also wanted to bring attention to how people can make a difference.

A little about me: I like to read, play the piano, sing, and listen to music. I also like to practice baton twirling and I am on a baton competition team.

I am a Junior Girl Scout in troop #30113. I have been in Girl Scouts since I was in kindergarten. Girl Scouts has made a big impact in my life. Girl Scouts is a great opportunity to learn and have fun at the same time. It also teaches girls how to be leaders and that we can make a difference.